In the Fall of 2006, Carrie Fisher was workshopping her one-woman show, Wishful Drinking, at The Geffen Playhouse in Los Angeles, California. The show was still in its infancy stage, Carrie testing a variety of material — the best of which she would take on the road, and eventually all the way to Broadway. If this were any town other than Los Angeles, the audience might have been filled with cinnabon hairdos and illuminated lightsabers, but at The Geffen you're more likely to catch Carol Burnett, Liza Minnelli, or Kathy Griffin scattered among the Beverly Hills elite on any given evening.
As I quietly took my seat in eager anticipation of one bearing witness to the one-woman laugh riot that was Princess Leia's alter ego, who should sit down beside me but the face of the Turner Classic Movie channel, Robert Osborne. Dressed exactly as he would be on my television screen, looking all but ready to rattle off bon mots of wisdom in which any cinephile like myself would gladly indulge.
I say "the face of the Turner Classic Movie channel" because in 2006, there were no other hosts on TCM. Not like today's Ben Mankiewicz, or the many celebrity guest hosts the channel boasts from time to time. No, 11 years ago it was still all Osborne, all the time. Having been a lover of classic movies since I first saw Psycho at 9 years old, I became a fan of TCM because they didn't show commercials. But I fell in love with TCM because of Robert Osborne.
Robert Osborne was someone you welcomed into your living room whole-heartedly. He was warm, delightfully approachable, passionate without pretense, and full of great stories. In short, he provided value, so much so that you wanted to invite him back again and again. In fact when you'd tune in for a movie on TCM and he wasn't there to introduce it, you'd always feel just a little let down.
Here in Hollywood, celebrity spotting is a bit like bird watching. You could pick out a park bench and do it just about any day of the week, but it's ill advised to feed the animals. For one thing, asking someone to scribble their name on a napkin seems silly. Besides which, to approach a perfect stranger for a conversation always feels a bit like an invasion of privacy on any level.
There are, however, always exceptions to be made.
During the intermission of Carrie's riotous one-woman show, Robert Osborne's lady friend excused herself to the restroom and there I sat, side by side with television's master of ceremonies, a row of empty seats on either side of us. "I'm sorry," I preemptively atoned, "but I can't help myself. I watch you all the time on Turner Classic Movies, and I just have to tell you what a joy it is to hear your stories before and after each movie."
Without skipping a beat, Mr. Robert Osborne turned to me, smiled warmly, and, in his best host-like voice, said, "You know, in 1990 Meryl Streep essentially played Carrie Fisher in a wonderful film based on Fisher's novel of the same name, Postcards From the Edge." He went on to discuss Shirley MacLaine's performance in the film opposite Streep, what parts of the movie were true to life and which were not, and how director Mike Nichols paid homage to every mother/daughter staircase scene in the history of movies, of which there are many I learned that evening. He spoke about Carrie Fisher and her life in films right up until the lights dimmed for Act Two. I was enthralled. It was a moment I'll never forget.
Robert Osborne was as warm and approachable in person as he was on our television screens. He loved what he did for a living, and he lived for making viewers like me happy.
I've often confided in friends, "When I retire, I don't really want to retire. I just want to become Robert Osborne and host classic movies on TCM."
This remains true… but I'll never be able to do it quite like Robert Osborne did.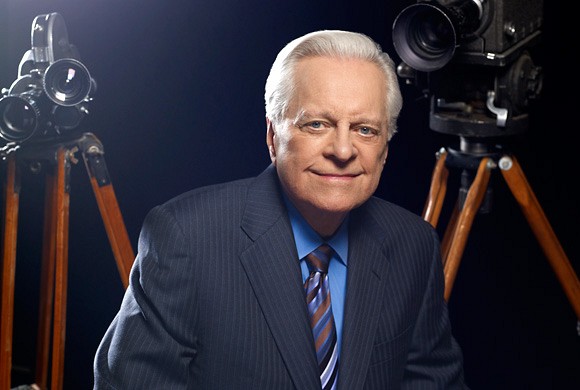 RIP Robert Osborne (1932 – 2017)