Prolific is a word long associated with Stephen King. Constant Readers will be happy to know the Master of Horror has no plans of slowing down any time soon.
Only 44 days into the new year and already news has surfaced of three new King projects in the works, each of them collaborations with other authors. Here's what we have to look forward to:
Sleeping Beauties is the first father/son collaboration between Stephen and Owen King. Billed as a "wildly provocative novel of supernatural suspense," the novel poses the question: What would happen if all the women abandoned the world? Little is known about the story other than it is said to take place in a women's prison in West Virginia.
While the book is not due to be released until October 2017, you can prepare by checking out Owen's novel, Double Feature, or his short story collection, We're All In This Together.
Stephen and Owen will promote the book together, opening the Adult Author Breakfast at this year's BookExpo on June 1st.
Arguably Stephen King's most famous collaboration to date is the 1984 novel, The Talisman, co-authored by fellow horror scribe Peter Straub. In 2001, King and Straub re-united for a sequel, Black House. Late last year during an appearance at the National Book Festival, King spoke of a third book in the "Jack Sawyer" series. "With any luck, we will start the third one in February," King revealed. "We know just what it's supposed to be."
Too good to be true? You can hear it straight from the source. Check out the 46 minute mark in the video below.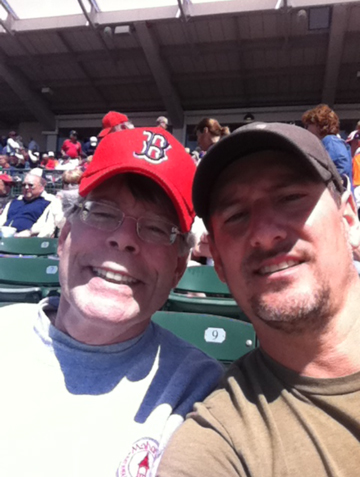 Last week, Cemetery Dance Publications founder/owner/author Richard Chizmar began teasing on social media that he had "the biggest announcement of his career" on the way. Indeed, Chizmar's big reveal did not disappoint as he announced Saturday via his Facebook page that he has been working on a novella with Stephen King.
Chizmar's most recent project, A Long December, received high marks from King. "Richard Chizmar writes clean, no-nonsense prose," praised King. "Terrific stories served with a very large slice of Disquiet Pie."
If you aren't already, you'll want to start following Richard and Cemetery Dance on these social media platforms to stay informed as further details are soon to be released:
Twitter.com/CemeteryDance
Facebook.com/CemeteryDance
Twitter.com/RichardChizmar
Facebook.com/RichardChizmar

Which new Stephen King collaboration are you most looking forward to? Let us know in the comments below!