Stephen King and Richard Chizmar announced the title of their co-authored novella, Gwendy's Button Box, and revealed the cover art to Entertainment Weekly earlier this morning. The hardcover trade edition is also now available for pre-order exclusively through CemeteryDance.com, complete with Richard Chizmar signed copies and available slipcovers.
"I had a story I couldn't finish, and [Chizmar] showed me the way home with style and panache," King told EW. "It was a good time, and I think readers will have a good time reading it. If they are left with questions, and maybe have a few arguments, all the better."
Chizmar elaborated, "Steve sent me the first chunk of a short story. I added quite a bit and sent it back to him. He did a pass, then bounced it back to me for another pass. Then, we did the same thing all over again – one more draft each. Next thing you know, we had a full-length novella on our hands. We took a free hand in rewriting each other and adding new ideas and characters. The whole process took about a month."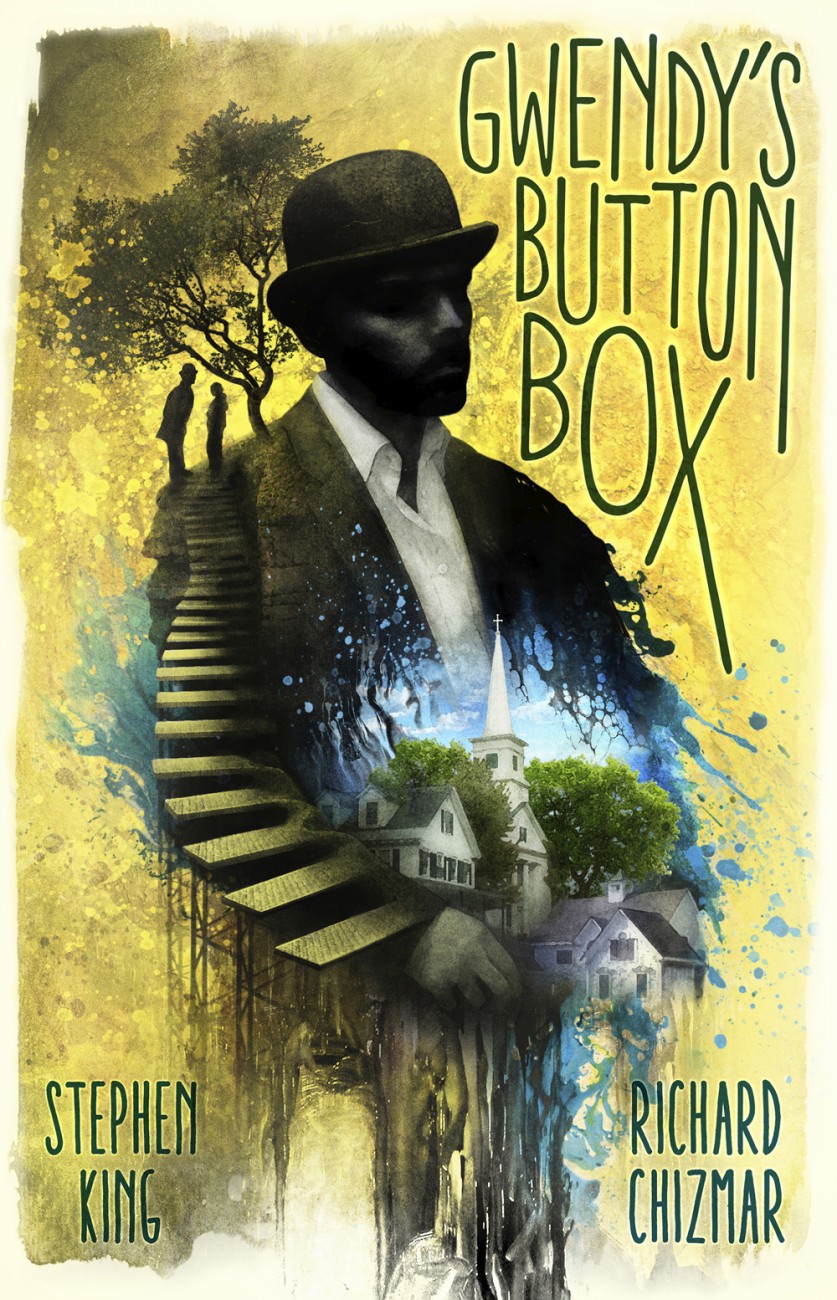 Gwendy's Button Box is the first King story to be set in his fictional town of Castle Rock in quite some time. According to EW, the timeline of the story would take place right around the events that occur in The Dead Zone. Nearly a novel itself, Gwendy's Button Box comes in at 175 pages, just a few under Carrie's 190.
The official story synopsis reads:
The little town of Castle Rock, Maine has witnessed some strange events and unusual visitors over the years, but there is one story that has never been told… until now.

There are three ways up to Castle View from the town of Castle Rock: Route 117, Pleasant Road, and the Suicide Stairs. Every day in the summer of 1974 twelve-year-old Gwendy Peterson has taken the stairs, which are held by strong (if time-rusted) iron bolts and zig-zag up the cliffside.

At the top of the stairs, Gwendy catches her breath and listens to the shouts of the kids on the playground. From a bit farther away comes the chink of an aluminum bat hitting a baseball as the Senior League kids practice for the Labor Day charity game.

One day, a stranger calls to Gwendy: "Hey, girl. Come on over here for a bit. We ought to palaver, you and me."

On a bench in the shade sits a man in black jeans, a black coat like for a suit, and a white shirt unbuttoned at the top. On his head is a small neat black hat. The time will come when Gwendy has nightmares about that hat…

Journey back to Castle Rock again in this chilling new novella by Stephen King, bestselling author of The Bazaar of Bad Dreams, and Richard Chizmar, award-winning author of A Long December. This book will be a Cemetery Dance Publications exclusive with no other editions currently planned anywhere in the world!
While no official release date has been announced, Amazon is already accepting pre-orders for the Kindle edition and cites the delivery date as May 28th.
Chizmar's most recent project, A Long December, received high marks from King. "Richard Chizmar writes clean, no-nonsense prose," praised King. "Terrific stories served with a very large slice of Disquiet Pie."

UPDATE: On Wednesday morning, Cemetery Dance Online published an exclusive interview with Stephen King and Richard Chizmar speaking at length with Bev Vincent about the writing process for 'Gwendy's Button Box.' You'll want to check that out here: http://www.cemeterydance.com/extras/interview-with-stephen-king-and-rich-chizmar/