Collaborative fiction is a beast hard to tame. Untethered, it can jocky the reader back and forth between styles like a mental tug of war. When at its best, however, the reader can lose themselves so entirely in the story that they forget it was written by two people at all. Thankfully, Gwendy's Button Box, co-authored by Stephen King and Richard Chizmar, lends itself nicely to the second category.
At the start of the novel, twelve year old Gwendy Peterson is gifted with a mysterious button box. Given to her by an equally mysterious stranger, Gwendy surmises that the box holds strange powers. For one thing, it dispenses extremely rare mint condition silver dollars at will, as well as tiny chocolates that will leave Gwendy satisfied enough to stop overeating. She's been made fun of at school for her weight and has taken to running up Castle View's "suicide steps" each day to shed a few pounds. The most daunting thing about the box, however, are the buttons it possesses. Not the kind of buttons you would sew onto a jacket, but the kind that you would push. (Or, maybe you wouldn't.) There is a different colored button for each continent, plus a red button and a black one. The stranger who entrusts her with this gift tells Gwendy the red one is for "whatever she wants" and the black one is the most dangerous, as it is all encompassing. When Gwendy inquires what exactly the buttons do, the stranger poses to her: Why ask a question you already know the answer to?
Gwendy must decide for herself what she will do with the box, where she will hide it, and how she will use it. In her hands, she suspects she just might hold the fate of the world.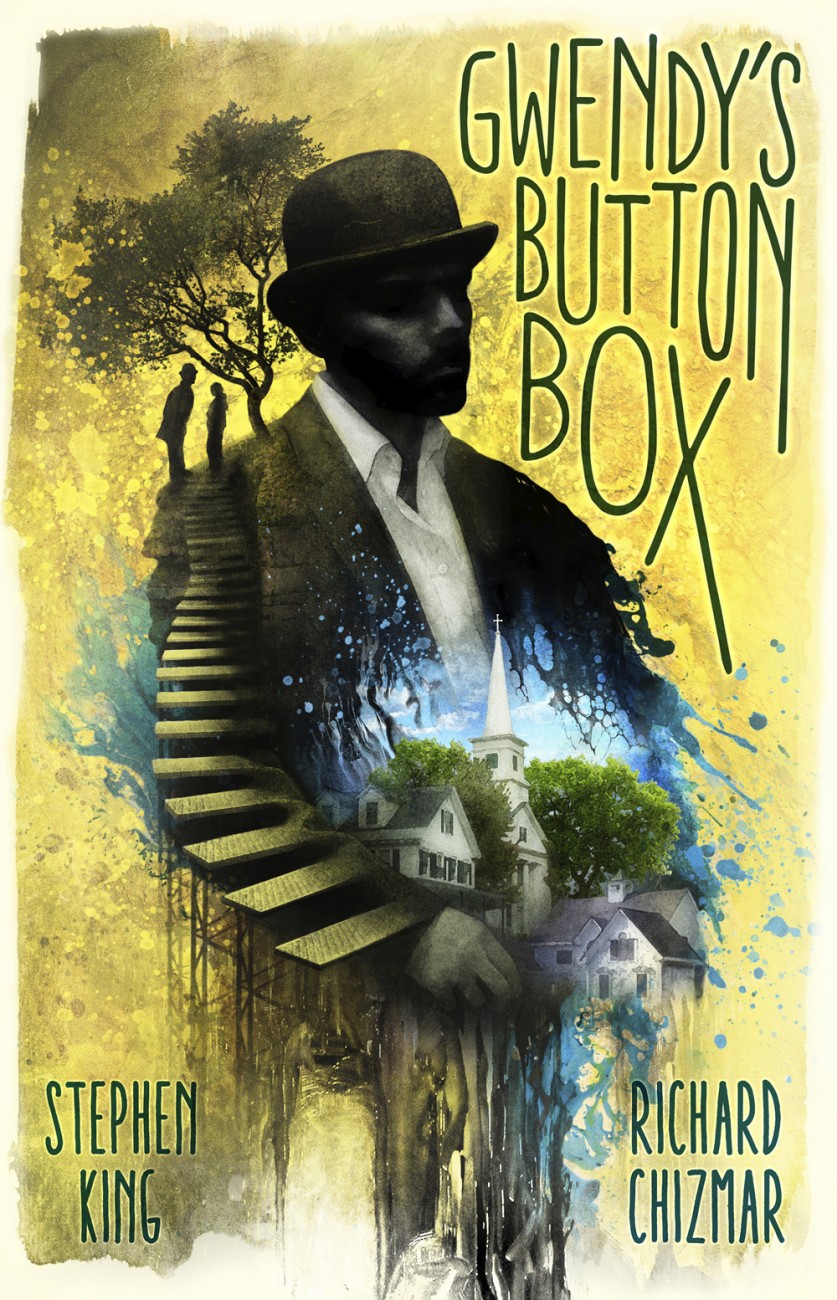 This is the first story in quite some time to take place in Stephen King's fictitious town of Castle Rock. In the timeline of the Stephen King universe, Gwendy's story would take place right around the time Johnny Smith would be waking up from his coma in The Dead Zone. And yes indeed, there is an Easter egg or two for the hardest of hardcore King fans.
Gwendy's Button Box features all the familiar tropes both fans of King and Chizmar have come to love. King writes beautifully about the burdens of childhood, and we've seen picked-on teenage girls dating all the way back to his first novel, Carrie. Chizmar fans will remember his past obsession with boxes and hiding them (see: The Box). He's also penned about teenage angst. Together, these two make the perfect combo to write what is at its core a coming of age tale about the discovery of one's own power, and the overwhelming sense of responsibility that comes with it.
Though the novella is nearly a novel at 175 pages, Gwendy's Button Box is a fast paced thrill ride, a real page turner. Stephen King once referred to Richard Chizmar's writing as "no nonsense prose." There's plenty of that on display here, right through to the story's wildly enthralling climax. The ride begins to slow as it reaches the finish line, lingering just long enough for us to ponder all that we have read — a beautifully executed ending.
King has said of Gwendy's Button Box, "I think readers will have a good time reading it. If they are left with questions, and maybe have a few arguments, all the better," leading this Constant Reader to assume the story's finale would be somewhat ambiguous. I did not find it to be that at all. The conclusion of Gwendy's Button Box is where its heart resides. It is as clear and satisfying, as it is exquisitely poetic.
Gwendy's Button Box is a fast and fun collaboration, at many points showcasing the best qualities of both its authors. Stephen King and Richard Chizmar have styles unique unto themselves. Together, however, their combined techniques prove simply delightful.
To order Gwendy's Button Box in hardback, Kindle, or audiobook, click here.