Newly formed Suntup Editions is collaborating with artist David Palladini for their first release, The Eyes of the Dragon Art Portfolio.
Palladini is the artist behind the gorgeous first trade edition of Stephen King's bestselling fantasy novel, The Eyes of the Dragon, published by Viking Press in 1987. The Suntup Editions release marks the first art portfolio of the book ever to be printed. The Eyes of the Dragon Art Portfolio will be published in a Numbered and Lettered edition, both of which will include 22 black & white plus 2 color illustrations, and an exclusive afterword written by Palladini. All editions will be signed by David Palladini.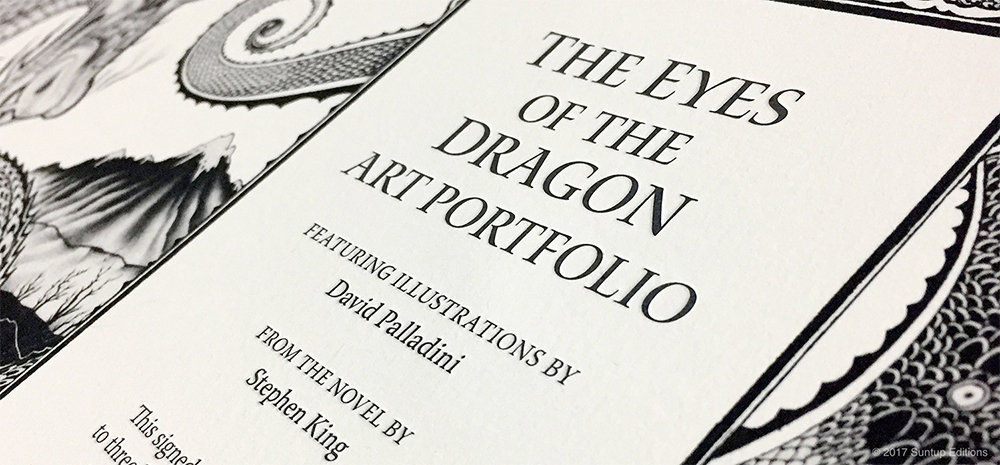 Paul Suntup, owner and founder of Suntup Editions, says he feels a personal connection to The Eyes of the Dragon. The book was his introduction to Stephen King as a teenager, making him a lifelong Constant Reader of the author's work. It also started him on his journey of book collecting. He felt it only natural that this would be his new limited edition publishing company's debut. "I remember how much I loved the story and the accompanying artwork when I first read Stephen King's The Eyes of the Dragon in 1987," says Suntup on the company's Facebook page, where he is currently giving away a Palladini signed poster to one lucky Facebook follower. "I never would have thought that 30 years later I would become friends with the artist, much less publish an art portfolio of these beautiful illustrations."
Pre-order is slated for later this month. As this will be an extremely limited release, Suntup is giving a priority 'heads up' on the pre-order to all those on the Suntup Editions mailing list, which you can join by clicking here: http://bit.ly/2lwI8jK
Discover more about The Eyes of the Dragon Art Portfolio at suntup.press, or on the Facebook page at Facebook.com/SuntupEditions.